Cook and Sons Take Huge Lead in Scavenger Hunt
Seeking Back-to-Back Championships, Philadelphia Bloggers Submit 13 Photos Totaling 52 Points
by Alan Schuster, May 11, 2011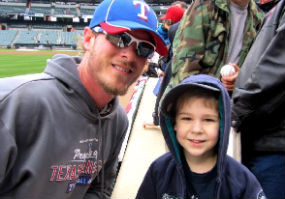 To earn four points, Tim had to pose with a Rangers player (Mark Lowe) while wearing Mariners gear.Todd Cook and sons, last year's winner of the myGameBalls.com Photo Scavenger Hunt, are wasting no time in racking up points in this year's contest. Just a month and a half into the season they've already recorded 52 points out of a possible 130, putting them in first place by over 40 points. With camera in hand, Todd comes to the ballpark looking for opportunities to score points, and so far those opportunites have been plentiful. Here's a few of the highest-scoring photos that the Cook family has snapped so far:
In all, they've taken 13 photos that have earned Scavenger Hunt points. Following behind them in the standings are Mateo Fischer (10 points), Zac Weiss (8 points), Howie (3 points), and Matt Jackson (3 points).
Check out all the photos on the myGameBalls.com Scavenger Hunt page