Ballhawk League Announces 2009 Winners
Champion Crowned in Each of 11 Categories
by Alan Schuster, October 14, 2009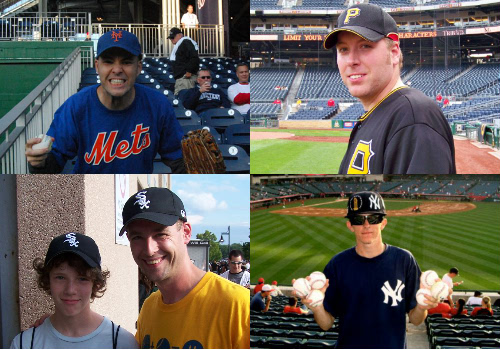 The top 5 ballhawks in the 2009 Ballhawk League - Clockwise from top left: Hample, Jabs, Chris P, Happy Youngster, and Alex K.The inaugural season of Erik Jabs' Ballhawk League came to a close last week, and the overall winner was no surprise. Zack Hample, finishing the regular season with 525 balls, had over 100 more balls than the second-place winner, Erik Jabs (412). Behind Jabs were The Happy Youngster (372), Alex (316), Chris P (287), Greg Barasch (278), Nick Pelescak (273), District Boy (221), Shawn (189), and Donny Haltom (178). The League also established winners for each of its 11 categories. "Zack Hample won 7 out of 11 categories," wrote Erik Jabs on his final Ballhawk League blog entry. "He failed to capture the top spot in these categories: Games Attended (Erik Jabs 81), Hit Balls Snagged (Erik Jabs 217), Thrown Balls per Game (Joe Faraguna 5.63), and Device Balls per Game (Donny Haltom 1.83)." The League was an overwhelming success and featured 22 ballhawks, most of whom have profiles on myGameBalls.com. The first of its kind, the League gave ballhawks some additional competition that wasn't present in prior seasons. "Well I definitely enjoyed participating in the Ballhawk League this year," commented Greg Barasch. "It really added something to my season. Thanks for putting this all together Erik, and congrats to everybody for a great 2009!" Read the final recap of the 2009 Ballhawk League, including the complete leaderboard, on Erik Jabs' Blog.