Barasch, Faraguna Combine For 27 at Citi
Barasch Finishes With 13, Faraguna Snags 14 Friday Night in New York
by Alan Schuster, June 10, 2010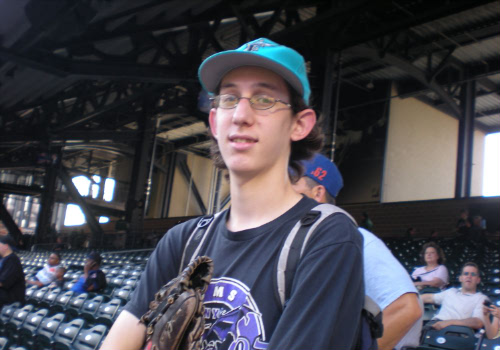 Barasch, sporting his Marlins cap, pauses for a photo during batting practice.If you were at Citi Field on Friday and your name isn't Joe Faraguna or Greg Barasch, chances are you didn't snag very many balls. The two New York ballhawks were dominant, combining for 27 balls and both individually falling just short of the Citi Field single-game record of 15 balls. "We stayed out of each other's way during BP," said Barasch, knowing that two elite ballhawks snagging in the same area can stifle both ballhawks' total. "There's plenty of room in left field to split up." Barasch struggled a bit to judge the ball off the bat but still managed to snag a couple off the fly. He was able to make a killing off the toss-ups though. Interestingly, he got toss-ups from all four starting infielders for the Marlins: Jorge Cantu, Hanley Ramirez, Dan Uggla, and Gaby Sanchez. "I'll bet it's happened to someone before, but it seems rare," Barasch noted. Probably his most significant accomplishment of the night was regaining the top spot in the all-time total balls list for Citi Field. He now boasts 137 total balls at Citi Field, followed on the list by Zack Hample with 131, Faraguna with 86, and Gary Kowal with 75. Although Barasch and Faraguna were mostly split up during BP doing their own thing, they came together on a few occasions during the night to snag balls. During BP both snagged balls minutes apart from the very back of the Marlins bullpen, a location that Barasch says is the furthest away from home plate that he's ever snagged a ball. Right before the game, the Barasch/Faraguna team then combined to snag all three of the balls that were used to play catch in front of the Marlins' dugout. Finally, when the game ended both ballhawks secured a ball from umpire Brian Runge. Faraguna ended up edging out Barasch for most balls at the game, finishing with 14. He started off slow but kicked into gear when he snagged a David Wright BP homer. "I ran a section and a half to my left, near where the first one had landed, and made a jumping catch over my head on the fly," he wrote on his blog. "That felt good." After a dry spell he started really raking in the balls. His snagging rampage started with a pair of back-to-back toss-ups from a father and son. He got a ball from Wes Helms' son, and then shortly thereafter got a ball from Wes Helms himself. He followed that up with toss-ups from Jorge Sosa and Tim Wood, and then he cup-tricked a ball in center field. That led to his most significant snag of the day, his 200th career ball. Faraguna described it in detail on his blog. "Jorge Cantu hit one that looked like it was coming right to me," he wrote. "I drifted through the whole row to my left, knowing Greg was probably around there. As it started to descend, I just knew I had to catch it. It soared down fast, just over my head. I leaped up, whaling my glove back, and caught it on a fly for ball #200!" Faraguna finished strong, getting five more toss-ups, including in-game toss-ups from Gaby Sanchez and Jeff Urgelles. He finished with 14 balls, tying his personal best and falling just one ball short of the all-time record at Citi Field. Barasch and Faraguna forged a friendship throughout the night, sitting together during the game and often working together to get players to toss balls their way. "The whole game was awesome, and it was a great time roaming and watching with Greg," Faraguna remarked. Read more about Joe and Greg's dominating performance on Joe Faraguna's blog UPDATE: Unfortunately Barasch's stay at the top of the Citi Field total balls list was short-lived. Zack Hample snagged 12 balls last night to regain the top spot.