Jabs, Pelescak, Hample Lead BHL at Mid-Season
Trio Has Combined For 687 Balls After 14 Weeks of Competition
by Alan Schuster, July 19, 2010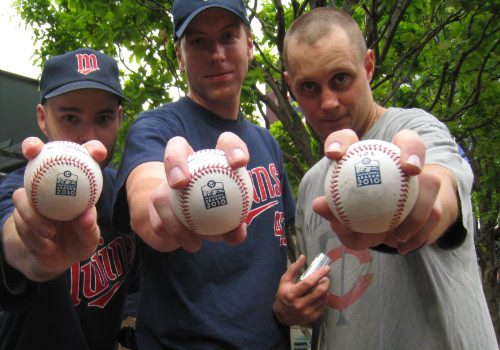 Hample (left), Jabs (center), and Pelescak (right) converged on Progressive Field earlier this year and combined for 23 balls on May 1.The Ballhawk League has reached its midway point for the 2010 season, and so far its 22 competitors have combined to snag 1,393 balls. Almost half of those balls, 687 to be exact, have been snagged by the three top ballhawks: Pittsburgh's Erik Jabs and Nick Pelescak and New York's Zack Hample. Jabs' 280 balls put him solidly in first place, followed by Pelescak with 225 and Hample with 182. Not too far behind are Shawn B with 130 (his Spring Training balls don't count in the BHL) and Greg Barasch with 105. Filling out the Top 10 are Casey Ward (83), Matt Jackson (76), Joe Faraguna (71), Matt Sabel (47), and Max Van Hollebeke (34). The Top 10 leaders in BHL Points follow almost exactly the same order, with Erik Jabs on top with 1,098 points. Bryan Pelescak joins the Top 10 BHL Point Earners in the 10th spot with 147 points. Jabs has snagged the most Hit balls (150) and Device balls (26), while Hample has snagged the most balls via toss-up (97). Hample also leads the field with a 9.58 balls per game average, and has snagged the most game home run balls with 3. The big story in the first half is Jabs, who is on pace to finish the season with 560 balls. He has positioned himself to challenge Hample's single-season record of 543 balls, accomplished in 2008. But expect both Hample and Pelescak to put a lot of pressure on Jabs as the season heads down the stretch. Shawn B and Barasch are both coming on strong as well, so expect them both to make a push towards the top. Check out Erik Jabs' Blog for the latest BHL Report WEBMASTER'S NOTE: The stats mentioned in this article are through Week 14, ending on July 11.