Cook and Son Take the Lead in Scavenger Hunt
Father-Son Duo Submits Fourteen Photos Totaling 67 Points
by Alan Schuster, July 23, 2010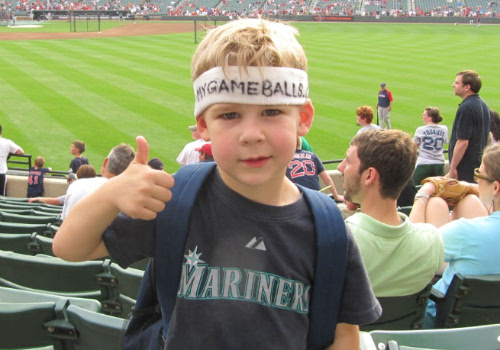 Tim Cook gives the thumbs up while wearing his homemade myGameBalls.com headband at Camden Yards.Before the season began, Todd cook composed a list of his 20 goals for the 2010 season. Among the items on the list was winning the myGameBalls.com Photo Scavenger Hunt. After returning from a 7 game road trip in California and uploading a variety of cool and/or wacky photos, Todd and his son Tim are well on their way. In fact, Cook and Son's scavenger hunt photo collection now includes 14 photos out of a possible 20 and totals 67 points out of a possible 100. The Cooks have now taken a huge lead in the standings, unseating the previous leader Avi M. Here's the complete list of Todd and Tim's point-worthy photos so far:
View the complete slideshow of all of Cook And Son's photos
Here's the current scavenger hunt standings. While the Cooks are the clear favorites at this point, there's still plenty of time for others to catch up.
| Member | Points |
| --- | --- |
| cooknsonbats | 67 |
| Jonesy67 | 33 |
| SonicMAJ | 12 |
| TxBasebalFan | 8 |
| Mannywood | 7 |
| Jona | 6 |
| Howie | 2 |
Read more from Todd and Tim Cook on their Blog