Jabs Records His 500th Ball of 2010
BHL Leader Becomes 2nd Ballhawk to Snag 500 in a Season, Now Looks to Break Single-Season Record
by Alan Schuster, September 7, 2010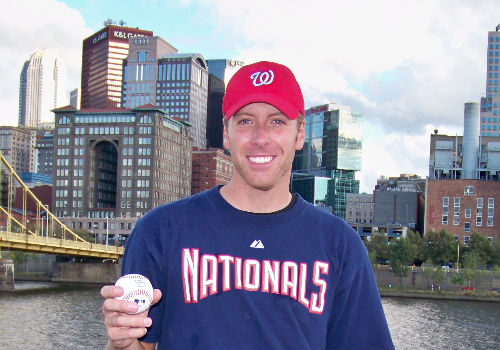 With his 500th ball in hand, Jabs now sets his sights on the single-season record.Last week Erik Jabs became the only ballhawk besides Zack Hample to snag 500 balls in a single season. The milestone snag, a batting practice homer off the bat of Mike Morse, also put Jabs well within striking distance of the all-time myGameBalls.com single-season record: Hample's 543 balls in 2008. The nine balls he snagged on Friday at PNC Park demonstrated his growing versatility as a ballhawk. Three were snagged off the bat, three were snagged via toss-ups, and three were found in the seats. The only thing missing was his glove trick, which he's used consistently this season to snag unreachable baseballs. The nine ball performance is pretty typical of Jabs this season, but the day would be particularly memorable due to reaching the elite 500-ball plateau. Fittingly, number 500, his sixth of the day, was snagged on the fly on the hard line drive from Morse. With a few short weeks left of the season, Jabs is currently sitting on 503, just 41 balls short of breaking the record. If he can stay near his 6.45 ball average, he could be just six or seven games away from making history. Stay tuned to Erik Jabs' blog to follow his quest for the record.