Happy Youngster Snags Home Run Number 58
Yohanek's Latest Gamer Has Special Meaning Due to a Recent Family Tragedy
by Alan Schuster, September 11, 2010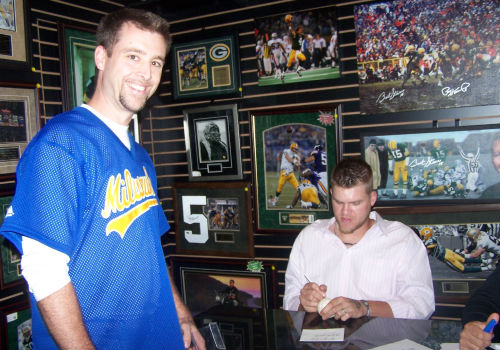 On Thursday Yohanek got to meet Hart and get his home run ball signed.When The Happy Youngster Nick Yohanek arrived at Miller Park on Monday, emotions were running high. The legendary Milwaukee ballhawk was grieving the loss of his best friend and brother Jon, who was killed in a tragic motorcycle accident at the age of 35. "My brother and I had attended numerous games at Milwaukee County Stadium...bonding and ballhawking together over a few hot dogs and America's Great Game," Yohanek remarked. "Oh, so many great memories. If my calculations are correct, Jon had snagged 5 game home runs between the 1998-2000 seasons. Always quicker than me, he certainly had skills." So as Happy watched the game from the right field seats, the many fond memories of his brother were foremost in his mind. With Jon right there with him in spirit, this game wasn't about adding to his 1,000-plus baseball collection or even just rooting the Brewers to victory -- it was about honoring his brother. Of course, what better way to honor his brother than to do something that was the source of some of their fondest childhood memories -- snag a game home run. Corey Hart crushed a fly ball to right-center field, and Happy immediately knew what he had to do. "I swear that ball reached the clouds," he said. "It was the highest hit home run ball I have ever snagged. One of the highest I have ever seen. And it came straight to me." Having snagged 57 game home runs prior to this one, there was little doubt that he would be able to snag this one on the fly, and of course he did. "After I made the catch, I had a million emotions running through me," he said. "This one was special. Special because this one was for Jon." Please keep the Yohanek family in your thoughts and prayers during this difficult time.