Jabs Snags 6 in Cincinnati, Breaks Record
Record-Breaking 544th Ball of 2010 is Snagged in Final Game
by Alan Schuster, November 3, 2010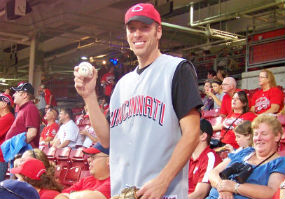 Jabs poses with his record-breaking 544th ball of the season, standing in the spot where he snagged it.Erik Jabs' final chance at making history by breaking the single-season record rested on a trip to Great American Ballpark, where he would have to contend with almost 45,000 fans to snag the six balls he needed. In just his sixth career game in Cincinnati, Jabs rose to the occasion and snagged exactly six balls to increase his season total to 544 and edge past Zack Hample's 2008 total of 543. "I had been on pace to break this record all season long, but after struggling a bit in September, it looked like it might not have happened," Jabs blogged earlier this week. "Breaking the record was a relief." The crowded playoff atmosphere presented a challenge, but Jabs was able to navigate his way through the crowd and make difficult snags in traffic. He got on the board quickly with a clean catch of a Corky Miller BP home run, and followed that up by battling for another homer in a scrum and coming out with the ball. Shortly thereafter he used his patented "Cleveland Stick" to retrieve a ball from the batter's eye. With three balls in hand, Jabs zeroed in on Johnny Gomes who was peppering homers into the bleachers. After narrowly missing a couple, he tracked the next one down and snagged it on the fly over some other fans. With the snag he put his season total at 542, and with the Phillies still yet to come to bat he knew he had a good shot at getting the record-tying and record-breaking snags. The Phillies are known for their powerful left-handed bats, so it didn't take long for Chase Utley to crush a homer into Jabs' general vicinity. Jabs took off, hoping to chase it down. "I bolted up the steps, and the ball hit off of a plexi glass screen and was at my feet," he wrote. "I threw my glove over it and had the ball." Now sharing a piece of the record, Jabs headed back to left field with the final group of Phillies in the cage. In what was one of the final BP homers hit that day, an unidentified Phillies player ripped one towards the left field seats. Jabs knew that with batting practice winding down and a gigantic crowd to deal with during the game, this could be his last chance at the record. Determined not to let the opportunity slip away, he raced towards the ball. "I ran up the steps about five rows, and caught the ball on the fly with my back towards the infield," he wrote. "It was one of my best catches of the year." With the snag Jabs put an exclamation point on a dream season of ballhawking, one in which he attended 88 games, snagged 544 total balls, grabbed four foul balls, and snagged two game home runs. Read more about Erik Jabs' record-breaking game on his blog.