Yohanek Makes Pledge for 2011 Season
The Happy Youngster Vows to Give Away Every Ball He Snags This Year
by Zac Weiss, April 3, 2011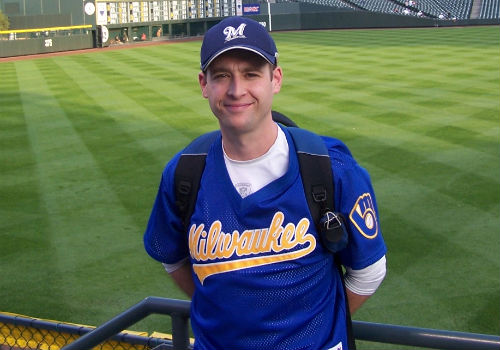 Kids at Miller Park should be on the lookout for this face in 2011, as every single ball he gets will be given away.When a ballhawk makes a snag, many choose to spread the wealth and give the baseball away to someone. Nick Yohanek, better known in the ballhawking community as the Happy Youngster, will be taking this much further by simply giving away all of his snags (with the exception of game home runs). "I've been accumulating baseballs for over 15 years, now," Yohanek said. "While it's true that I have given plenty of baseballs away over the years, I thought it would be fun to make a 100% commitment (minus game HR's) over the course of an entire season. After all, my kids aren't about to run out of baseballs anytime soon." Yohanek said that kids would be the recipient of 75% of these snags, with 20% of the snags going to a random person who happens to be close to him. Ballhawking has been citicized by many who do not understand how it works, and by giving away almost all of his potential snags, Yohanek wants ballhawking to be accepted by people and this could be what starts getting snagging baseballs some positive press. "People will say what they want to say about "ballhawks"," Yohanek said. "There's no shortage of ammunition used against us. My intention is to try to swing the balance back a bit, you know, give 'em another reason to bite their tongues and have a little fun with fellow fans in the process." Perhaps people will decide to follow in Yohanek"s footsteps and make a similar declaration, however Yohanek does not want others to feel forced to do so. "All things considered, I think it's 'bad juju' to dictate to others what they should do with their own property," Yohanek said. "Simply put, when that baseball enters the stands, it becomes the immediate property of the individual who first claims possession of it. If that person wants to throw it back on the field, so be it. If they want to pull out a can of lighter fluid, give it a good dousing and light it up, so be it. If they want to give it away, so be it. To each his or her own." As a ballhawk, Yohanek is all about having fun and giving away baseballs helps him have fun and interact with all different kinds of fans. "For me, ballhawking is all about having fun," Yohanek said. "It helps me fulfill my inner youth and it helps drive my competitive nature. When I sit in the stands and watch a game, I don't feel like just a spectator. I feel like I have figured out a way to involve myself with the game on the field. Giving baseballs away to deserving fans is a great way to get involved with the other component of the game-the actual crowd in attendance. Without a crowd, there would hardly be a game. Without players, there would be no game, either." Yohanek plans to attend approximately 25 games this season. To find out more about Yohanek and his baseball declaration feel free to visit his blog thehappyyoungster.mlblogs.com all season long.