Hample Cleans Up in Oakland, Eyes 1,000 Ball Year
11 Ball Game Including Two Foul Balls Put Ballhawk in Striking Distance of 1,000 Balls in 2011
by Alan Schuster, September 7, 2011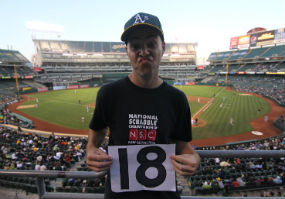 The Oakland Coliseum was Hample's 18th stadium of the season, and he's hoping to hit all 30.Prior to last Friday night, the last time Zack Hample attended a game in Oakland was in August of 1999. Incredibly, that's also the last time a double-digit game was recorded at the Oakland Coliseum. Hample snagged 11 balls on Friday, including two upper deck foul balls, to record the third double-digit game in the history of the ballpark. The only other double-digit game in Oakland was recorded by Rick Gold on May 23, 1994. The highlight of Hample's night was the two foul ball snags, the first off the bat of Justin Smoak and the second hit by Kurt Suzuki. Hample was able to chase both down fairly easily, and the lack of competition behind home plate had him hoping for even more. "As bad as this might sound, I was actually disappointed to 'only' snag two foul balls," he wrote. "There were lots of close calls throughout the night, and I really thought that I could've/should've broken my single-game record of three." More important to Hample than the foul balls, however, is his quest to snag 1,000 balls this season. The Oakland game increased his total to 870, and he's counting on a big September to propel him into quadruple digits. Read more about Zack Hample's big night in Oakland on his blog.