Gold, Hample, Anderson All Snag May 8th Homers
Three of the Country's Most Skilled Ballhawks All Strike Gold on Same Night
by Alan Schuster, May 12, 2012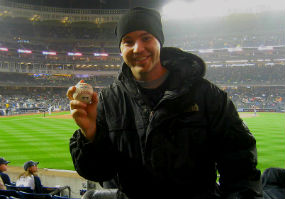 Hample is all smiles after snagging his 17th career game home run.Three of myGameBalls.com's premier members -- Rick Gold, Zack Hample, and Tim Anderson -- all had big nights on Tuesday night, each snagging a game home run ball. The gamers were Gold's 44th, Hample's 17th, and Anderson's 13th of their respective careers. All three ballhawks rank in the Top 6 home run snaggers on the website. Anderson's was probably the most high-profile snag of the evening. The Rangers' Josh Hamilton had a career night at the plate, hitting four home runs, and Anderson was the lucky recipient of one of the four. Meanwhile at Yankee Stadium, Hample pulled down a Raul Ibanez homer to the right field bleachers, his second career gamer at the New Yankee Stadium. "Luckily, the guy who had a clear shot at catching it was not wearing a glove, and the ball bounced off his hands and landed at my feet," Hample recounted. "Everyone around me started to lunge for it, but I had already scooped it up, and just like that, I'd snagged my 17th lifetime game home run ball." On the other side of the country, Rick Gold quietly added to his lifetime home run total by snagging a home run ball hit by Kelly Johnson at the Oakland Coliseum. It was the first home run snag for Gold in Oakland since 1998.