Anderson Predicts Gamer, Pulls it Off
Baltimore Ballhawk Snags Adam Jones Homer After Posting Bold Pre-Game Tweet
by Alan Schuster, May 27, 2012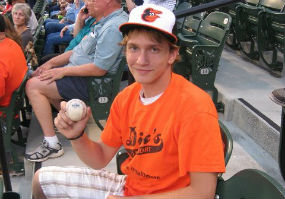 Anderson proudly displays his 15th career game home run ball.Baltimore ballhawk Tim Anderson did something on May 15th that most ballhawks don't have the guts to do. He called his shot. Anderson took to Twitter before he left for the game, tweeting this message: "I'm not one to predict when I'm catching my next homerun, but let's just say I like my odds for tonight." His bold prediction proved correct. The Orioles' Adam Jones slugged a homer into the left field bleachers, and Anderson snagged it on the fly amidst some tough competition. "I put my head up, tracked it down the steps, squeezed myself past some people about two seats, and robbed them of a homerun hit right to them -- my favorite kind," he remarked. San Diego ballhawk Leigh Barratt was at the game, visiting Camden Yards for the first time, and the veteran ballhawk came away quite impressed with Anderson's performance. "I got to see the master at work," he said. "Tim made an OUTSTANDING catch of an Adam Jones home run in traffic. I saw a lot of hands going for the ball, but Tim came up with it." It was Anderson's website-leading 3rd gamer on the season and 15th of his career.