Edlund Snags Two Splash Hits in Single Week
San Francisco Kayaker Paddles His Way to Huge Week in McCovey Cove
by Alan Schuster, July 1, 2012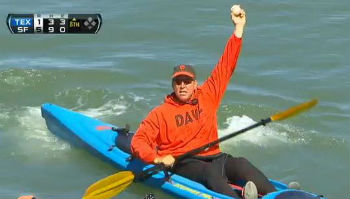 Edlund triumphantly displays the Mitch Moreland home run ball.San Francisco ballhawk Dave Edlund has been occupying his usual spot in McCovey Cove this season, and as usual he's been making a ton of waves. The kayaker and die-hard ballhawk snagged two game home runs from the cove in a single week in early June, giving him 14 gamers for his career. The homers were hit by Mitch Moreland on June 9 and Brandon Belt on June 12. According to Edlund, the Moreland homer was the 25th splash home run hit by a Giants' opponent in 13 years, and the first splash hit by a Texas Ranger. The second snag of the week was Belt's first homer of the year. "They call him the Giraffe as he looks like one," Edlund remarked. "but he has power and this will not be his last HR!" Likewise it most certainly won't be Edlund's last home run snag.