Anderson Chases Down Two Eutaw Street Gamers
Baltimore Ballhawk Increases 2012 Gamer Total to Five With Huge Night at Camden Yards
by Alan Schuster, July 25, 2012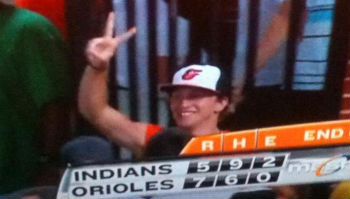 Anderson lets everyone know that the Wieters snag was his second on the night.Baltimore ballhawk Tim Anderson has made a name for himself in the left field bleachers at Camden Yards, but on June 29 he decided to try his hand on the right field side. "My friend sat in the section just to the left of the flag court, and before the game started, I told him I was catching three tonight," he said. "Of course I was kidding, didn't even think I would get one." After all was said and done, he got two. The two home run snags were both monster shots onto Eutaw Street, the first by Asdrubal Cabrera and the second by Matt Wieters. Neither was snagged on the fly -- Anderson simply outmaneuvered the competition and chased both balls down off the bounce. In typical fashion, Anderson used one of his decoy balls after he snagged the Cabrera homer, chucking it onto the field to appease the home crowd. In one of his most impressive throw-backs, he almost took out pitcher Jake Arietta. Later in the game, though, he got a chance to snag one from the home team. Matt Wieters crushed it beyond the flag court in right, and Anderson put his head down and sprinted toward it. "The ball took one bounce off Eutaw Street and rolled onto an overhanging roof of the warehouse," he said. "I waited for it to roll down, used my height, and snagged it before anyone could. This time I could actually celebrate and I made sure the cameras knew it was two that night." Anderson has now snagged five home runs this season, and 17 for his career.