Gold Defeats Hersl in Epic Ballhawking Battle
Veteran Ballhawks Compete for John Hester Homer, Gold Prevails
by Alan Schuster, August 2, 2012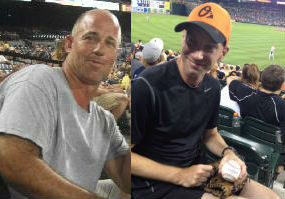 Hersl, left, came out on the losing side of a fierce battle with Gold, right.Ballhawks on myGameBalls.com will often see each other at the ballpark and sit together for an inning or two. Usually these encounters are pretty insignificant -- just a couple guys shooting the breeze and talking baseball -- but on occasion a ball will fly in their direction and the two ballhawking buddies suddenly become cutthroat competitors. Such was the case in late June at Camden Yards when hometown ballhawk Matt Hersl met up with the visiting Rick Gold from New York. The two seasoned ballhawks were chatting in the left field bleachers when suddenly a long blast off the bat of John Hester came sailing their way. Initially Hersl decided to play it cool and let Gold have the uncontested snag. "I was talking to Matt and heard the crack of the bat, and looked up and the ball was headed our way," Gold said. "Initially it looked like it was going to be catchable in the aisle a few rows in front of us. Because he was behind me and I had better position, Matt even called, 'You got it. You got it.'" The ball drifted away from the aisle, however, and deflected off the bare hands of a fan. At that point it was every man for himself, and Hersl took the opportunity to join the pursuit. "I was right in front of the seat and Matt was to the side of it, so we both reached for it," Gold said. "At one point we simultaneously had a solid grip on the ball, and we wrestled for it for awhile. It seemed like forever, but was probably more like 30-45 seconds. I ended up on my knees facing the ball and he was holding on to the ball from the side, so I ultimately had more leverage and wasn't letting that ball go." The situation then became even more chaotic when a kid got his hands on the ball and began struggling for it. Hersl gave up, leaving Gold clutching onto the ball while the kid attempted to wrestle it away. Eventually the kid gave way and Gold officially possessed his 45th lifetime game home run. He gave the kid a commemorative ball he had snagged earlier in the day, which made both him and his parents happy. Hersl and Gold both took battle scars home with them that night. "In the aftermath, one of Matt's previously broken fingers was swelling up and I realized I had skinned my knee and was bleeding all over the place," Gold said. "I went to First Aid to clean myself up and get a band-aid. Matt reported the next day that he had re-broken his middle finger." Despite the injuries, there were no hard feelings. "Matt was cool about it and didn't blame me, and was out shagging the next day," Gold said.