3 Year Old Fan Sees 30th Team Play Live
Mariners Fan Tim Cook Watches the Royals Play to Complete the List of MLB Teams
by Alan Schuster, September 3, 2009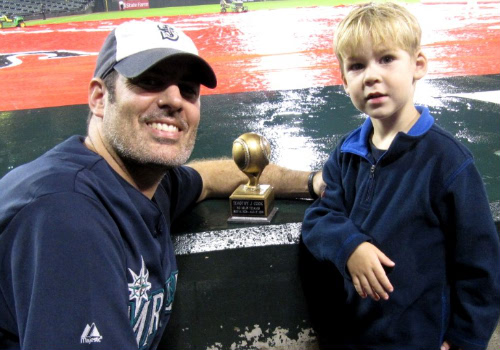 Have you seen all 30 Major League teams play live at the ballpark? A lot of baseball fans have been able to do this, but most were well into adulthood by the time they checked that final team off the list. A few lucky ones may have finished off the list of teams during their elementary school days or teen years. But it would be difficult, if not impossible, to find a baseball fan who has accomplished this feat quicker than young Mariners' fan Tim Cook. With a little help from his Dad Todd, 3 and a half year old Tim recently saw the Kansas City Royals play to complete the list of 30 teams. The quest for this goal actually started while Tim was still in the womb. "Before Tim was born, I hand made a hard back, leather bound book for him that I called the 'Baseball Log'", Todd wrote on his blog. "I use the Baseball Log to track all of Tim's baseball adventures. Therefore, coming into this season, I knew that there were only 11 teams that Tim had not yet seen play in person. I made it one of our goals for the season." Cook's blog features a complete list of the 30 teams and the date that each team was checked off the list. In a division-by-division analysis, he notes that he first completed the A.L. West, where his beloved Mariners play, followed by the N.L East, N.L West, A.L East, N.L Central, and A.L. Central. The blog entry also notes the winning team for each game as well as relevant statistics. Todd and Tim have had a lot of fun and created many Father-Son memories over the past 3 years. "But memories aren't all we have collected," Tim wrote. "We've also amassed a few MLB baseballs and a bunch of ice cream helmets." myGameBalls.com doesn't have statistics for ice cream helmets, but Cook's complete collection of baseballs is documented on his member page. Now that Tim has this milestone under his belt, another one is potentially on the horizon. "Now, we'll have to start working on the next milestone -- maybe every MLB stadium," Todd wrote. It's not too far out of reach -- Tim has already been to 18 different stadiums. Very few baseball fans have been to every Major League stadium, and Tim is currently on pace to see them all before he hits kindergarten. For now, though, he is enjoying his new trophy, which reads "Timothy J. Cook, 30 MLB Teams, Sept. 12, 2006 - Aug 17, 2009." Check out the Cook and Son Bats blog for the full report.