Barasch Snags 6th Career Foul Ball
New York Ballhawk Continues Dominance of Nationals Park
by Alan Schuster, September 14, 2009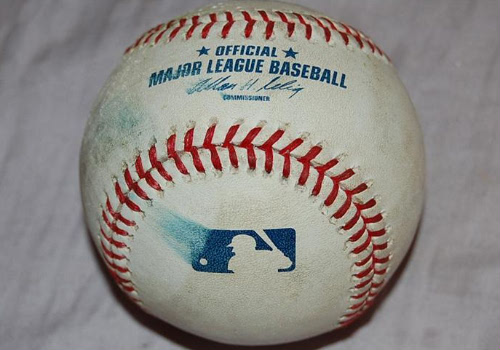 "Game balls are not my specialty," admits Greg Barasch. "I rarely ever play for foul balls. There aren't any good foul ball ballparks in the Northeast (outside of Camden Yards, where I've only been once this year), so I pretty much play the dugouts at the games I go to." So oftentimes when Barasch does get a foul ball, he just happens to be at the right place at the right time. Such was the case last week at Nationals Park, when he snagged his 6th career foul ball. "The foul ball was completely ridiculous," he said. "I was literally walking back to my 'seat' behind the third base dugout when Willy Harris lifted one right near the staircase I was walking down." Barasch took full advantage of the opportunity. "As it descended, I scampered into a partially empty row of seats, watched it rattle around on the ground as I closed in, and picked it up with my bare hand in the middle of the row." No matter what the situation, foul balls are hard to come by. Nevertheless, Barasch downplays the snag. "I've never gotten any ball that I've deserved less," he said. Barasch doesn't get out to Nationals Park much, but his numbers there are staggering. In 7 career games, he has snagged 83 balls, an average of 11.86 balls per game. "I just like getting out of New York to snag," said Barasch, whose home stadium is Citi Field. "It's like a completely different experience going to games outside the Big Apple." Barasch's total for the game, 13 balls, was another huge performance at Nationals Park. With the foul ball snag, Barasch now can list Nationals Park as the one stadium where he has snagged multiple foul balls. And his season total of 2 foul balls at all stadiums combined gives him two consecutive seasons with multiple foul balls. Check out the ball-by-ball details of Greg Barasch's September 5th game at Nationals Park.