Youngest Member of myGameBalls Makes First Catch
3 Year-Old Tim Cook Snags First Ever Toss-Up on the Fly
by Alan Schuster, October 7, 2009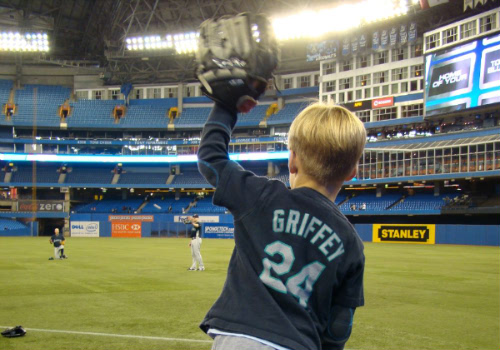 Tim Cook, 3, positions himself for a toss-up.Most everyone can remember the first time they rode a bike by themselves without any help. Sure, it was fun for a while to ride while Mom or Dad held the handlebars and guided you along. But when they finally let go and let you do it on your own, the feeling was truly exilerating. Likewise, as a kid it's great to rack up baseballs at Major League games with Dad behind you pulling all the strings. But there's nothing like the feeling of a baseball hitting the pocket of your glove as you snag a ball all by yourself. During a late-September trip to Toronto, 3 year-old Tim Cook was determined to make his first solo snag. To clarify, he had previously snagged some balls on his own, by they were literally placed into his glove by players. This time, he wanted to actually catch a toss-up on the fly. His Dad Todd was also pulling for this to happen, and the opportunity presented itself during pre-game warmups at the Rogers Centre when Ryan Rowland-Smith agreed to a photo-op with the Cooks. According to Cook's blog entry about the game, he decided to ask an additional favor. "After this picture, do you think you could throw that ball in your glove into my son's glove?" he asked. Rowland-Smith agreed, and the stage was set for Tim's first catch. But disappointingly, Tim dropped the toss-up. Thankfully, however, minutes later Rowland-Smith gave him another opportunity. "Ryan then took the ball all the way across the warning track," Todd wrote. "I was thinking, 'Oh, my gosh. How's Tim gonna catch this from that far!'" Unphased by the pressure of the moment, Tim tracked the ball into the pocket of his glove, squeezing tight to secure it. It was a special moment for both father and son. Both the toss-up and Tim's reaction were captured on camera and are posted on Cook's blog. Todd also recounts on his blog the conversation he had with Tim a few days after it happened. "I asked Tim who threw the baseball that he caught," Todd wrote. "He thought about it for minute and first said, 'Jason Phillips.' Then he thought harder and he came up with a new answer, 'Smith Roll.' Hey, that's not too far off. 'Ryan Rowland-Smith' is probably a hard name for a 3-year-old to remember." Read the full report of Tim Cook's first catch on the Cook and Son Bats Blog.